Today I want to tell you more about my recent online experience with Qphoto. With everything being digitalized nowadays, I bet most children today miss out on the days when you still held a photo album in your hands and browsed through childhood memories. My mom used to have a photo album for both my brother and me where she kept all our childhood photos from birth until primary school.
Although I appreciate modern technology and everything that goes along with it to make our lives easier, there are some things that I still prefer the old fashion way—for instance, reading a physical book instead of using an eReader or Kindle.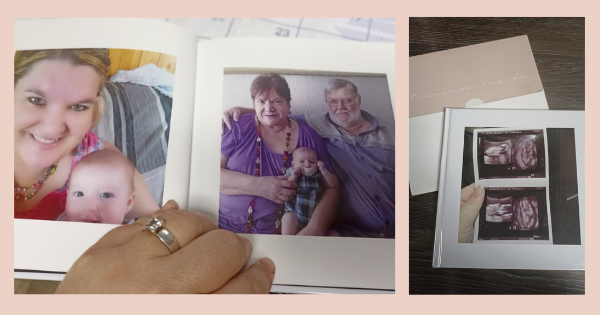 The only problem with photo albums is that you have to go through the trouble of having your photos developed or printed and then adding them yourself. The albums start deteriorating with age, and then you end up losing some of your photos. But the good news is that there is a much simpler solution. You can order a photo book from Qphoto and have a stunning keepsake that you can treasure and keep for future generations. I recently ordered a photo book from Qphoto with photos of my son from birth to about two years old. Maybe you are going on a family vacation and want to relive those memories. You can order a photo book to commemorate special occasions or events and keep it yourself or gift it to someone special.
Qphoto Photo Book Review
Why Order From Qphoto?
Qphoto believes in everlasting beauty and the value of having a stunning printed photo album. They use conventional bookmaking techniques and modern printing technology to create a personalized photo book that you can cherish for years to come. You can upload your photo's from your PC, smartphone, Instagram, or Facebook. The website contains plenty of useful resources to guide you through the process of creating your own customized photo book.
What Services Do They Offer?
Q-photo offers various services, from photo books to printed canvas gifts, home décor, and more. Visit their website to browse through the different options.
How To Get In Touch With Them
Pros of Ordering Your Own Personalized Qphoto Photo Book
Superfast service – I received my personalized photobook within two business days from the order date.
Wide variety of photo books to choose from – there is something for everyone!
Personalize your photo book – choose the photos you want to include and upload them quickly and easily. You can also add captions.
Easy to use platform – I used my smartphone to order my photo book and upload the pics I wanted to include.
Excellent communication – I was kept in the loop from ordering my photobook until I held it in my hands. I received an email with a tracking number when the parcel was shipped.
Beautiful keepsake – I love everything about my photobook. It was packaged beautifully in a pretty box with the words "treasure inside."
Money-back guarantee
Qphoto currently has a special promotion with 15% off and free shipping until the end of July 2022. So, hurry up and order yours today. I promise you will not be disappointed.
Conclusion
I hope I have convinced you to order your very own Qphoto photobook. After all, our memories are our most precious gifts. If you're unsure about what to gift a special friend or family member, why not order them a photobook, or purchase a gift card that allows them to personalize their gift? I love companies like Qphoto that pay attention to detail, offer a range of product options, and deliver fast and exceptional service.
Related articles: